---
---
It is very important to protect your hair from heat!
Blow dryers, flat irons and curling irons weaken and/or destroy vital proteins in your hair as well as deplete your hair's natural oils.
Blow dry damage can be prevented by using products containing glycerin and propylene glycol because these actives retard water evaporation.
Iron damage can be reduced by using conditioners formulated with low molecular weight conditioners that can penetrate into the hair like cetrimonium chloride. Another study (see Reference 2) showed that exposing hair to heat in the presence of such a conditioning agent actually caused an increase in tensile strength (the force required to break a hair). This is because the heat reacts with the conditioning agents and cross links some of the protein chains inside the hair.
When Looking for thermal protector try finding a product with low alcohol content.
A few of my favorite protectors are by Pureology and Enjoy.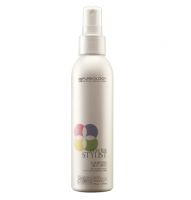 Pureology ColourStylist Fortifying Heat Spray
Thermo-protective spray with Xylose Sugar. Primes and protects hair up to 400ºF when using thermal styling tools. Mild hold.
HOW TO USE
Lightly mist on damp hair before styling.
Use as a foundation product and layer with other styling products
---
Antisplit Blowdry Styling Cream
Lightweight humidity resistant cream. Adds moisture and reflective shine for an effortless blow-dry. Mild hold.
HOW TO USE
Apply evenly to damp hair and blow-dry.
Tips: Massage into mid-lengths and ends to increase slip and prevent mechanical damage while blow-drying.
---
Enjoy Conditioning Spray
Protect your hair from blow drying, sun and other thermal services. Excellent for detangling, preserving hair color, hair smoothness and softness without weight or greasy feeling.
HOW TO USE
Towel dry hair, spray in, then comb or brush through hair.
The best part is that these products aren't just going to keep your hair from getting fried, but they are also going to add shine, de-frizz, help straighten your hair or enhance natural curls — depending on the style you're going for. Once applied, you can heat style your hair with confidence.
References (online links not available)
1. Gamez-Garcia, M. "The Cracking of Human Hair Cuticles by Cyclical Thermal Stresses," J. Cosmetic Science, 49, 141-153 May/June 1998.
2. Ruetsch, S.B, et al, "Effects of Thermal Treatments with a Curling Iron on Hair Fiber," J. Cosmetic Science, 55, 13-27 Jan/Feb 2004.